Dr. Street is a brilliant astronomer working for MASA.  He was in charge of the Kat Sat 1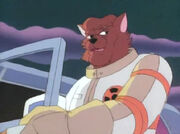 project.  Unfortunately for him, when his satellite returned, it was coated with a sticky slime containing an alien Ci-Kat-A, which bit him, taking control of his mind and eventually mutating him into a Ci-Kat-A-like creature himself. Dr. Harley Street tried to help the alien queen to achieve its full power by letting her eat the radioactive material from
Megakat Nuclear Power Plant
. He was supposedly killed when he was thrown out of the
Megakat Tower
by Razor. He only appeared in The Ci-Kat-A,"
but was supopsed to appear in the unfinished episode "Doctors of Doom" where Dr.
Harley Street resurfaces and teams up with
Dr. Viper
to create havoc in
Megakat City
. He was voiced by the late
Robert Ridgely
in the original English version and by Takeshi Kusaka in the Japanese dub.